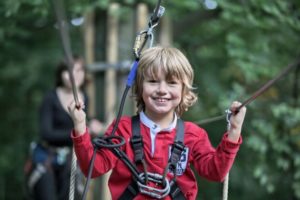 On this course children from 105 cm height (age recommendation: min. 4 years) can climb heights up to 11 m , depending on the park. Our modern, continuous belay system ensures permanent safety: the children can only be unsecured at height by our guide, or on the ground where the lifeline ends. From 6 years, the kids can climb the course independently. One companion on the ground is sufficient (supervision ratio 1:10) Children under 6 years of age must be accompanied 1:2 by a climbing adult.
Adult climbers pay the same price as the children on this course.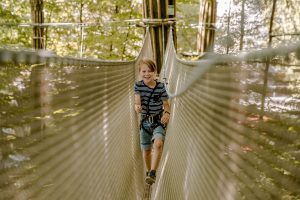 After putting on the harnesses, the kids are instructed by our "kids course guide" and off they go. Our guide is always at the course and can be contacted by you and the children at any time.
The children's courses in our three facilities differ in size and climbing time:
Bad Neuenahr: 2 rounds, 3 ropeways (one single ropeway), one climbing labyrinth, 90 minutes climbing time, plus 30 minutes in the labyrinth.
Velbert-Langenberg: 5 rounds, 5 zip lines, plus an additional single zip line, a climbing maze, 90 minutes climbing time, plus 30 minutes in the maze.
Leiwen: 3 rounds, 3 ropeways, 90 minutes climbing time.
Climbing times start only after harnessing and briefing.

The climbing maze
is a net maze up to 11 m high between the trees. The climbing labyrinth is included in the price for the children's course (only in Velbert and Bad Neuenahr. Unfortunately, we do not have a labyrinth in Leiwen).