The summer party at the Velbert-Langenberg climbing park
That was the WaldSause 2022. Aftermovies short and long:
At the age of 9, a confident girl entered Marco Launert's rock school and answered his question about what she wanted to learn with :
'I want to be a rock star!'
This girl was Sarah Hübers from Bocholt, already played guitar and wrote the first own songs.
From that memorable moment in 2015, they both worked on Sarah's music career, writing songs together, releasing them through the Rock School label, and going step by step together. The young musician from Bocholt played countless gigs at the rock school and on every stage imaginable. There, she initially impressed the audience not with her special vocal abilities, but with her appearance, her charisma and the clearly noticeable absolute will to make it in the music business.
Anecdote on the side :
When asked by a newspaper editor about her plan B should the rock star plan not work out, she only replied in amazement with 'How now?".
From the beginning, street music played a big role for the giant talent as the 'most honest stage in the world'. During a rock school tour to the Bardentreffen in Nuremberg, Europe's biggest street music festival, she was discovered for the SAT1 TV SHOW "THE VOICE KIDS".
In 2017 Sarah took part in this show, learned everything you need to know and be able to do for TV appearances, from dealing with nervousness to relaxed handling of cameras, and finally got the chance to open an OPEN AIR – concert of NENA, where she thrilled the 2200 people in the audience.
Concerts and television appearances with Angelo Kelly and the Kelly Family followed, as well as the release of several of his own CDs.
The debut work "Klamotten" was published in 2018, "Eine Welt, die sich nicht dreht" in 2019.
Both are also available on all major streaming platforms.
The initial frustration of the Corona period was alleviated in 2020 by Sarah's participation in the KiKA/ZDF TV show "DEIN SONG 2021". It is the only TV format that is all about original compositions.
With her title "Leise Worte werden laut" (Quiet words become loud), which was constantly refined over the entire season of the show with professional coaches and her godfather Johannes Strate (Revolverheld) and finally released with a music video, Sarah finally won in March 2021 at the finale in Leipzig through a telephone and online voting of the DEIN SONG – viewers.
From now on, she held the title of "Songwriter of the Year" and gained a large number of young fans.
Sarah has also long received praise for her vocal performance and gradually developed a distinctive vocal style that she skillfully integrated into her new song material.
As the next highlight, Sarah was commissioned by ZDF to write the theme song "Bist Du bereit?" for the KiKA docu-series "Jungs WG" and also sang the track herself. This acclaimed news was published at the 2022 finale of DEIN SONG, in which Sarah participated together with the candidates of Jungs WG and was interviewed live.
Sarah released her song "Why not now?" with video on Youtubein March 2022.
Sarah loves playing live more than anything and is happy about every engagement.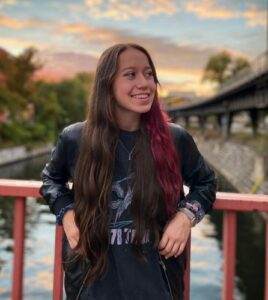 KRAFETZKA
from the Ruhr area hits the drum, makes steam with everything they have. Punk, ska, acoustic, folk, sometimes a little slower then again full lotte. "You and We, all together" is in the foreground, no matter where, festival, demo, living room concert or on a summer evening by the river, there will be laughter, music and fun.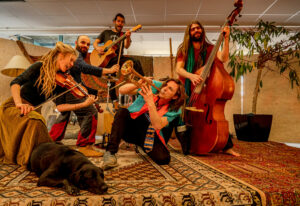 Donish folk
stands for the combination of Irish, German, international folk music, developed, practiced, mixed and arranged in a Wuppertal-Dönberg rehearsal cellar in its own way and with many strings: dönish in fact.
And as different as the origins of the various pieces may be, there are a great many parallels and similarities to be found on a Don folk evening.
The "Company" are Christof Aubke, Dieter Rottinghaus and Uli Schneider. They come with a whole bunch of instruments and joy of music. And they invite you to sing along, join in and have a great evening together.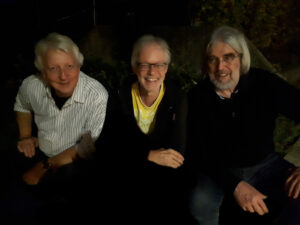 2 musicians – a two man band.
The extraordinary party duo rocks the stage with
2 voices, 2 guitars, ukulele, blues harp, foot drums
and delivers the powerful live sound of a complete band.
The party-ready selection of well-known hits from rock, pop, country,
Rock'n Roll, NDW, 80s, Reggae, invite you to sing along, dance and celebrate.
There is something for everyone!