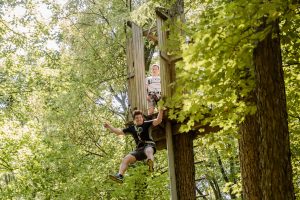 Did you enjoy the Tarzan jumps in the course? Have you ever thought about what might come next? Bigger, higher, further? Then the death slingshot is just the thing for you!
Many of you have already tried them – as an additional kick to our adventure courses and most of our visitors can't imagine a climbing experience without a death slingshot with us!
In our parks in Velbert-Langenberg and Bad Neuenahr-Ahrweiler, the death slingshot has been a fixed part of the adventure course since the 2021 season and is included in the price. You can jump the death slingshot at any time, without our supervision. (Park Leiwen unfortunately does not have a death slingshot)
In Velbert-Langenberg you climb two more elements after a successful jump and then you are at the end of the Xtreme course. With a daring jump, you come back to the forest floor full of adrenaline.
In Bad Neuenahr, the death slingshot offers an alternative entry point to our Xtreme course. A crazy task, right at the start of the toughest course!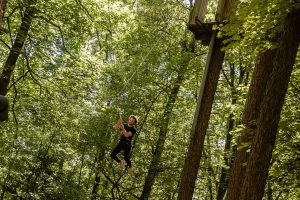 The highest rope ladder in the park takes you to the top and then you have to summon up all your courage, overcome the tingling in your stomach to jump daringly down from an 11-metre high platform, swing out on a long liana and feel like Tarzan – or Jane.
And the best comes at the end: Screaming allowed!